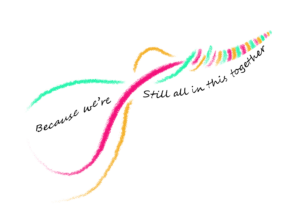 We Are All Still In This Together
Living our Faith
Thank you for what you have done and for what you are doing. Thank you for being generous. Our members and friends are simply wonderful people — they are cause for cheer in every heart.
As good stewards, we are in a position to guide our church's trajectory as we make progress on social justice, personal growth, community and inspiration. Once a year the stewardship committee asks you to revisit your financial commitment to our very important church.  We ask you to pledge.
We're doing wonderful things, even during the COVID-19 Pandemic!
As of February 1, our church has 721 members and friends.
We have 2.3 full time ordained ministers.
We have 1 Social Work Intern and 1 Ministerial Intern
When the COVID-19 Pandemic struck in March 2020, we were immediately able to pivot to online streaming services, programs, committees, and small-group gatherings.

At least fifty committees and groups met regularly via Zoom last year. This includes Young Marrieds, Yoga, Writers, Book discussions, New to UU, Womxn's Group, Grandmothers Circle, and small covenant groups, to name a few. There is something for everyone!

When the COVID-19 Pandemic struck in March 2020, we fast-tracked the Family Ministry Initiative, offering deep topics over extended periods with programming and materials for all ages of the congregation.
We have committed to be an Anti-Racist Congregation.

Over 250 members of First UU have completed workshops on the Richmond Pledge to End Racism. Offered by First UU, the workshops are now being offered virtually to congregations across the country. More than 500 people have signed the pledge, and First UU is training other UU congregations in this well-received effort toward a just and more multicultural world.
We are exploring and discussing the Black voices of our past and of our faith.
We are exploring, and discussing, and planning, ways to implement practices and recommendations offered via "Widening the Circle of Concern" a report from the UUA's Commission on Institutional Change.

We are a vibrant and large member of RISC, Richmonders Involved to Strengthen our Communities; currently, RISC is advocating for protections against evictions, and reducing gun violence.
We have enhanced our First UU Earth Ministry to work with the Foundation for Family and Community Healing
When we are able to return to in-person activities, some 70 First UU members will resume volunteering at the Cardinal Elementary School, a low-income, majority Latinx school in Richmond. These volunteers' contributions include mentoring, reading to individual students, delivering backpacks of food, collecting and distributing books and coats, and organizing and working special events. Almost 40 volunteers work on a weekly or bi-weekly basis.
We were able to offer sanctuary to an immigrant in need, who is in danger of deportation prior to legal proceedings being exhausted; she and her family were our guests since June of 2018, and they have just been allowed to leave without fear.
The UU suggestion for giving is generally based on percentage of income. For instance, if you gave 3 percent to the church last year, ask yourself if you can raise that to 4 percent this year. And then perhaps 5 percent the next year….. Make it incremental.