Updated on Fridays
Updated on Wednesdays
June's Theme-"Integrity"
The packet for this month is available on the member portal!
(Ask your group leaders for the member password.)
BLOG UPDATES
Did Ya Know?! – our monthly bit of UU history from Pat Vaughn
RISC – A note on our partner organization, from Steve Saltzberg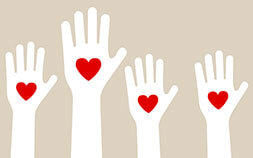 April 2019
Lay Pastoral Care Coordinators
Terri Wulf-Heller
804-363-9983
terriwulf@gmail.com
Team Kindness
Kathryn Spring
 804-272-0270
katspring61@hotmail.com
JUNE SHARE THE PLATE RECIPIENT:
Assisting Families of Inmates (AFOI) provides opportunities for regular and meaningful visitation, referrals to community resources, and vital services that help families cope with incarceration and prepare for release and reunification.  Based in Richmond and serving the local community, AFOI provided transportation for more 3000 family visits last year.  For many families, this is the only way the family has been able to stay connected with their incarcerated loved ones.
When we talk about family connections, we naturally think about things like spouses sharing a home together or extended family gathering for a holiday celebration. We don't typically think about a husband and wife separated by incarceration or the family gathering that is missing a brother who is incarcerated. At AFOI, interrupted family connections are a part of the fabric of who we are and what we do.  We believe positive family connections are critical because we know that over 90% of those incarcerated will be returning to our community. The more we can help promote and sustain positive family relationships, the more likely the inmate is to be successful when he or she re-enters our community.
If you'd like more information about our work, please visit www.afoi.org.  
Share the Plate Collection
Because of your generosity, for the month of March, we collected $2,173.78 for the Share the Plate recipient One Voice Chorus.
For the month of April, we have collected $604.50 towards the Share the Plate recipient Worthy Now, a UU Prison Ministry.
Do you shop on Amazon? What about Kroger? 
Did you know that you can support First UU by shopping where you already shop?! Here are two easy options to help support the church.
Go to
smile.amazon.com
and search for First Unitarian Universalist. Then, when you want to order something from Amazon, make sure to order from
smile.amazon.com
and Amazon will send a percentage of your purchase to the church! 
If you shop at Kroger and have a Kroger Plus card, search on your favorite web search site for Kroger Community Rewards. You can enroll by linking your plus card to the church and Kroger will send a percentage of your purchase to the church!
The church does not see your purchases in either place. We simply receive a check once a month from the organization. If you have any questions, please email Kelli McNeal (
bookkeeper@richmonduu.org
) and she will be happy to answer any questions.