Hello Dear Ones,
Difficult times, handled well will make us all wiser.
The time has come to move our congregation from in person gatherings which might inadvertently spread disease to online gatherings which allow us to be creative, thoughtful and supportive of one another.  We plan to be making this change beginning Friday, March 13th and continue this approach through March. We must be part of the solution.
Beginning Monday afternoon, the website will offer you instructions as to how your group may meet via Zoom conferencing software, a simple and personable technology.  Training for Zoom will begin at a training for leaders on Saturday March 21st and be held at multiple times the week following.  IF you need to gather your group sooner, we will offer tutoring 1:1. If you live near a less techie member of the congregation, you know Zoom and everyone is in good health, you might walk them through the easy Zoom process.
Should you be a person who lives alone and might need assistance, let Rev. Sherman or me know of your circumstances. If you know of someone in our community needing support, please pass on that information.
We will have Sunday worship on Zoom at 11:AM.  This week's service will be a multi generational service for the first few minutes and families with children and youth will receive guides on talking to your children about the service after.  I will be preaching on "A Spirituality for Hard Times" which I hope will be on target for us all.
The church will close except for essential services, ongoing sanctuary and the morning AA community "Faith That Works." One Voice will have practice space for their next concert, and other gatherings will be postponed.  Sanctuary volunteers will adapt their schedule.
The benefits of these changes are that we will learn how to offer our service virtually to the community, we will master how to hold good online gatherings and we will learn more about how to handle medical emergencies.
So let us undertake these adaptations with enthusiasm, hope and calm.  We are a resourceful people, able to do impressive things and care for each other and watch out for opportunities to support our partners in the RVA area and the commonwealth.  We are about to find out just how many wise and decent people there are in this world.  Let's be sure to be counted among them!
Rev. Jeanne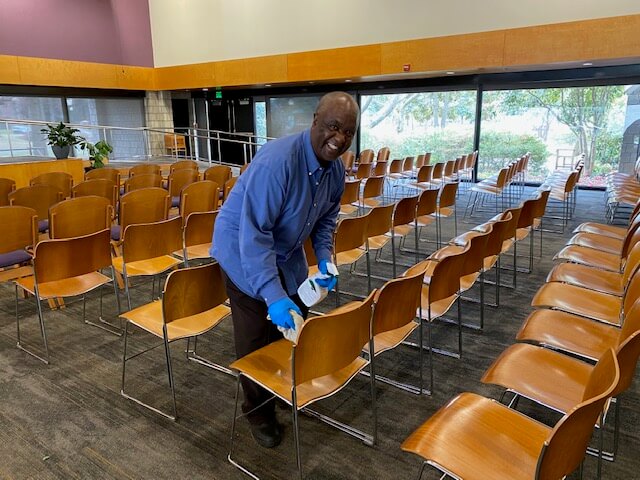 First UU is working diligently to address the implications of the COVID-19 pandemic (as termed by the World Health Organization) and with the guidance of UUA, CDC, and local health department best practices and recommendations in mind. Among other practices, we are stepping up our sanitizing and cleaning schedules to work on preventing the spread of the disease as much as possible (as you can see in this photo).
As UU's, we stress the importance of following scientific guidelines and evidence. As part of this reliance on fact, we encourage practicing alternative methods of greeting and showing appreciation! Some of these are featured in the image to the side– this is a best practice for many reasons, including the fact that like any virus, the ill and elderly among us are most at risk. If we can prevent spreading this illness, just like we might avoid spreading the average influenza virus, we're practicing care for our community!