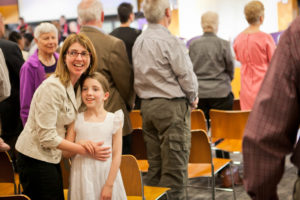 Parents are children's primary religious educators, therefore, it is the goal of First UU to support this relationship through the Church School Program and other opportunities, such as Multi-generational worship and FUUN Nights.
All Parents are requested to register their children for full participation in the program. Registration is done annually, on-site, on a rolling basis, from fall through spring. It provides parent contact information, awareness of health or learning concerns, and permission for the child to walk to the nearby park with adequate adult supervision.  Forms can be found in the classrooms and common area of the Lower Level.
Teachers are dedicated members of the congregation who adore children and learning and appreciate a good sense of humor. Teachers are committed for a full year at a time. All teachers as well as staff have passed a background check.
In addition, the following resources may be helpful for parents to use at home in family discussions:
– The Unitarian Universalist Association: www.uua.org for chalice lightings, stories, etc.
– Safety Pin Box: www.safetypinbox.com
– The Greater Good Science Center:  www.greater@berkeley.edu