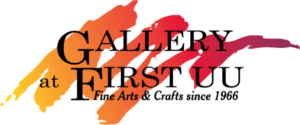 Gallery at First UU is the annual fine arts and crafts show at the First Unitarian Universalist Church of Richmond. The 52nd edition of Gallery is scheduled for September 20-24, 2017. Admission is free! (Check out the Gallery 2017 Invitation.)
Starting in 1966 in the church basement with about 20 artists, Gallery has evolved into Richmond's longest running juried fine arts and crafts exhibition and sale.  Over 4,000 works from over 160 of Virginia's finest artists are displayed, including oil paintings, watercolors, lithographs, fiber art, lamps, photographs, prints, pottery, sculpture, furniture, jewelry, stained glass, paper, wood, wearable art, weaving, and more!
Show Hours (Link for Calendar Here)

Opening Night: Wednesday, 9/20 — 5 pm to 8:30 pm
Thursday, 9/21 — 12 noon to 8 pm
Friday, 9/22 — 12 noon to 8 pm
Saturday, 9/23 — 12 noon to 6 pm
Final Day: Sunday, 9/24 — 12:30 pm to 5 pm
Customer Pick-up Purchased Art : Monday, 9/25 — 9 am – 6 pm
Call for Volunteers
If you would like to find out more about volunteering, check out the volunteering information sheet, job descriptions, or email gallery@richmonduu.org. You can sign up to volunteer at iVolunteer Gallery Signup.
Call for Artists
New artists will be selected in early May 2018 for the 53rd edition of Gallery at First UU. If you would like to be considered for the show this year, or if you have questions about showing your work in future Gallery shows, email gallery@richmonduu.org or write to:
Gallery
c/o First Unitarian Universalist Church
1000 Blanton Avenue
Richmond, VA 23221
©2017 Richmond UU – 1000 Blanton Avenue – Richmond, VA 23221 – (804) 355-0777 – Contact Us