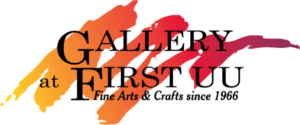 Gallery at First UU Will Not Take Place This Year
After much thought and with heavy hearts the Gallery at First UU Committee has
decided to postpone the 55th show at the First Unitarian Universalist Church.
Core to the decision is our commitment to the safety of our volunteers, artists,
and the public.
The 55th Show Has Been Postponed Until September of 2021
Dates for the 55th show will be determined by January of 2021 and will be posted
on this website and Gallery Facebook page.
We hope that the current situation has not hit you and yours too hard and look
forward to seeing you in September of 2021.
Please Visit with Our Artists