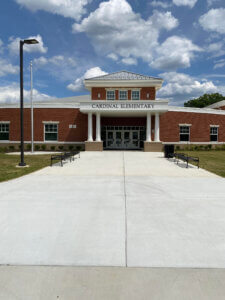 Cardinal Elementary School
Located on Richmond's Southside, the student population at Cardinal Elementary School is mostly African American and Latinx American, with the fastest growing Latinx population of any school in Richmond; more than 90 percent of the students are living at or below poverty level.
First UU's partnership with Cardinal is part of Richmond city's Micah Initiative. Everyone engaging with Cardinal is a member of our "Cardinal Team." During our meetings, we reflect on what we are doing; deepen our understanding of cultural differences; explore issues of marginalization and privilege; and live the deeper truth that EVERY child is OUR child. We coordinate our activities and contributions through the Communities In Schools (CIS)  Coordinator assigned to the school by CIS.
As the "Cardinal Team" we contribute to the school in the following ways:
Backpack Snacks with food provided by Feed More for families who are not able to provide adequate food on the weekends when the children are not having breakfast and lunch at school,
Winter coats, sweaters, and other clothing items donated by members of the church as needed,
Mentoring by becoming an adult friend to a child selected by the CIS coordinator at a time convenient to you once a week,
Weekly visits of 20 -30 minutes to read to a kindergarten or first grade class,
Contributing to teacher appreciation day, perfect attendance day, and other special days throughout the school year, and,
Community Day, a moneyless yard sale of items contributed by members of the church in coordination with other churches and organizations that provide food and information about health and social services.
To volunteer at Cardinal you need to initiate or update your background check. Watch this page for updates.  Lastly, if you are new to the church or are looking for another rewarding way to share your talents, please contact Joan Lewis joan.lewis@cornell.edu or Mary Ellen Barton to learn more about this program. Currently, due to Covid,  we are not able to be inside the school but are working on ways to help both the students and teachers at a safe distance.
Teacher Appreciation Breakfast, Spring 2022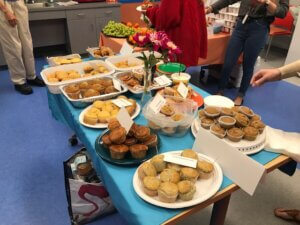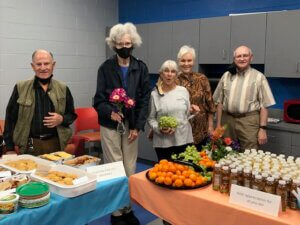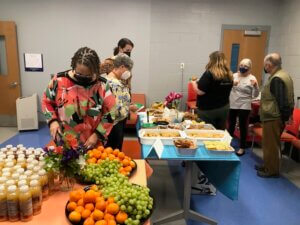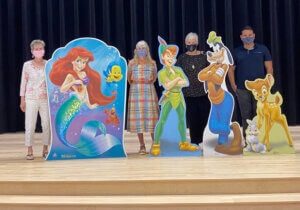 Teacher Appreciation at Cardinal Elementary, Spring 2021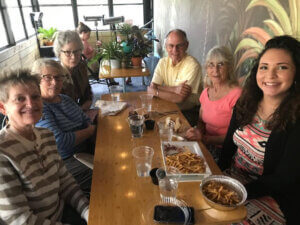 Celebrating our CIS Coordinator, Katalina Valdes