We assume that children have innate curiosity and wonder about the world and their place in it; that children are spiritual beings. In religious education, it is our goal to nurture this innate curiosity and search for meaning, to connect this search to a sense of community. The nineteenth-century Unitarian minister William Ellery Channing wrote, "The great end of religious instruction is not to stamp our minds irresistibly upon the young but to stir up their own . . . to touch inward springs."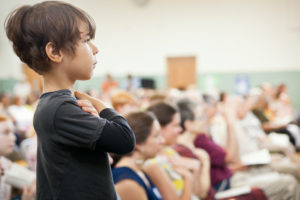 At First UU, we know that children learn differently; therefore, we offer multiple approaches that engage the child's body, spirit, imagination, and sense of curiosity. Stories, discussion, games, art projects, and group worship, are just some of the means we use to help children explore their world and gain new knowledge and insights.
Students learn that all big questions have many answers, and that it is their duty to search responsibly for their own answers. We also give children a foundation on which to build their own values and moral compass, with all lessons grounded in the seven UU Principles and six UU Sources.