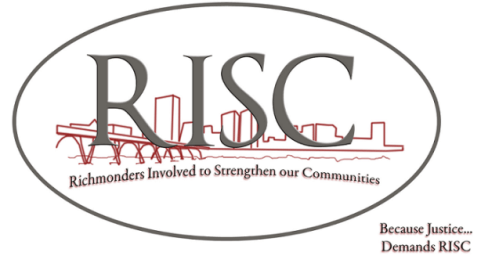 The church's theme of the month is persistence and it comes at the perfect moment to recount the RISC justice victories that we saw at the Nehemiah ACTION on May 2, attended by about 1000 citizens (60 from our church.)
This year RISC took on lack of affordable housing and the city's eviction crisis. From months of research we identified the issues, the best practices and the implementation problems with each of them.
We realized that a significant problem was that renters' leases did not protect the renter from any short term 'hickup' (health, car breakdown, job transition) in their ability to pay rent. Though there were local efforts to help, research revealed two powerful best practices:  increase the stock of affordable housing in the city and provide a better way to support those in jeopardy of eviction.
And those best practices came with Mayor Stoney's proposed city budget: $2.9 million for the Affordable Housing Trust Fund and $485,000 for an Eviction Diversion Program (based on proven programs in other cities). While RISC was careful to stay out of the budget/tax battle between the Mayor and the City Council, during that battle several council members threatened to cut housing and eviction diversion funding.  We needed PERSISTENCE.
RISC members met with Council members and came to the Council's April 22 budget meeting, where over a dozen RISC members spoke with passion and with data in support of these items. We were told that our comments helped to catalyze Council members to assure their approval. PERSISTENCE.
And at the Nehemiah ACTION on May 2 we again spoke with passion and facts and the Council members either came to show their support or wrote letters in support. You can see the letters at the bottom of the RISC webpage: http://www.riscrichmond.org/eviction-action. PERSISTENCE.
The other major issue at the Nehemiah ACTION was to address the reading to grade level problem in the Richmond City Schools. At the 2018 Nehemiah ACTION RPS Superintendent Kamras committed to a follow up meeting to consider piloting a proven curriculum for getting students reading to grade level —  Reading Mastery.  Then in June, RPS agreed to pilot the program in the Fall 2018 semester in a couple of schools.  They piloted it in EIGHT! But not with the fidelity that RISC recommended. So at the 2019 ACTION RISC asked RPS to continue the pilot and to improve upon it as well. PERSISTENCE. RISC plans to meet again with the Superintendent and the Chief Academic Officer to move these improvements forward. PERSISTENCE.
One of the ways that RISC succeeds is that we don't go away. We PERSIST even if it takes years. It is not so much that we are patient; it is more that we don't take NO for an answer!