Updated on Fridays
Updated on Wednesdays
May's Theme-"Persistence"
The packet for this month is available on the member portal!
(Ask your group leaders for the member password.)
BLOG UPDATES
Did Ya Know?! – our monthly bit of UU history from Pat Vaughn
RISC – A note on our partner organization, from Steve Saltzberg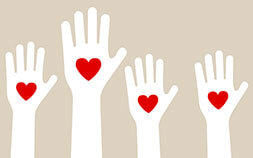 April 2019
Lay Pastoral Care Coordinators
Terri Wulf-Heller
804-363-9983
terriwulf@gmail.com
Team Kindness
Kathryn Spring
 804-272-0270
katspring61@hotmail.com
MAY SHARE THE PLATE RECIPIENT:
Our Share the Plate recipient for the month of May is the Meadville Lombard Ministry Legacy Scholarship Fund.  Half of money collected during Sunday services in May will be contributed to this fund which provides scholarship support to Unitarian Universalist Seminary students in the geographic area that was once the Southeast District of the UUA.
Meadville Lombard is one of two Unitarian Universalist Seminaries, and the seminary attended by our own Rev Jeanne.  This scholarship fund was started just over 10 years ago by two Meadville Alumna from the Eno River UU Fellowship in the Raleigh-Durham area.  With the help of offerings at installations, ordinations, congregational giving and other interested donors, the scholarship is well on its way toward the goal of $300,000 for a fully endowed scholarship. 
The average new minister graduates with an accumulated debt of over $60,000.00. to $90,000.00 ….a huge burden for a new minister. That's an enormous distraction they don't need when juggling the demands of a first ministry, and a financial challenge that may dissuade talented potential ministers from pursuing their call.
There is a great need for talented ministers in our faith, and a great need to support our seminary students.  We hope you will join in this opportunity to make a difference in their lives and in the future of Unitarian Universalism.
Share the Plate Collection
Because of your generosity, for the month of March, we collected $2,173.78 for the Share the Plate recipient One Voice Chorus.
For the month of April, we have collected $604.50 towards the Share the Plate recipient Worthy Now, a UU Prison Ministry.
Do you shop on Amazon? What about Kroger? 
Did you know that you can support First UU by shopping where you already shop?! Here are two easy options to help support the church.
Go to
smile.amazon.com
and search for First Unitarian Universalist. Then, when you want to order something from Amazon, make sure to order from
smile.amazon.com
and Amazon will send a percentage of your purchase to the church! 
If you shop at Kroger and have a Kroger Plus card, search on your favorite web search site for Kroger Community Rewards. You can enroll by linking your plus card to the church and Kroger will send a percentage of your purchase to the church!
The church does not see your purchases in either place. We simply receive a check once a month from the organization. If you have any questions, please email Kelli McNeal (
bookkeeper@richmonduu.org
) and she will be happy to answer any questions.