Updated on Friday, 3/8/19
Updated on Wednesday, 3/13/19
MONTHLY THEME
March's Theme-"Gratitude"
The packet for this month is available on the church website!
(Ask your group leaders for the member password.)
BLOG UPDATES
Did Ya Know?! – our monthly bit of UU history from Pat Vaughn
RISC – A note on our partner organization, from Steve Saltzberg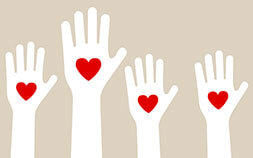 MONTHLY CARE TEAM
March 2019
Lay Pastoral Care Coordinators
Linda Ericson
717-319-2317
linda.ericson@aol.com
&
Carol Wayne
(804)356-8450
cwwayne5@gmail.com
Team Kindness
Kathryn Spring
 804-272-0270
katspring61@hotmail.com

Our Share the Plate recipient for the month
of March is One Voice Chorus. 
More than 18 years ago, the idea of forming an intentionally diverse choir was brought to life as the choirs of St Giles Presbyterian Church and Ebenezer Baptist Church join forces for a concert they called "One Voice." The choir has grown way beyond those two communities into a force for radical inclusion and welcome in Richmond. 
First UU has been happy to provide a home for the chorus' rehearsals – everyone who works Sanctuary companion shifts knows that Monday night is a great time to be here in our building!  One Voice performs three concerts a year – the next opportunity to hear their beautiful sound will be March 30 at St Michael the Archangel Catholic Church in Glen Allen.  
Please join us in showing our gratitude for the important work they do and the beautiful music they create.
BOOKKEEPER NEWS
Share the Plate Collection for February
For the month of February, we collected $2,184.10 towards the Share the Plate recipient Garden School House.
Do you shop on Amazon? What about Kroger? 
Did you know that you can support First UU by shopping where you already shop?! Here are two easy options to help support the church.
Go to
smile.amazon.com
and search for First Unitarian Universalist. Then, when you want to order something from Amazon, make sure to order from
smile.amazon.com
and Amazon will send a percentage of your purchase to the church! 
If you shop at Kroger and have a Kroger Plus card, search on your favorite web search site for Kroger Community Rewards. You can enroll by linking your plus card to the church and Kroger will send a percentage of your purchase to the church!
The church does not see your purchases in either place. We simply receive a check once a month from the organization. If you have any questions, please email Kelli McNeal (
bookkeeper@richmonduu.org
) and she will be happy to answer any questions.